The 5Rs of sustainability
In order to live a more sustainable lifestyle, we should all endeavor to minimize our consumption
There are infinite ways to reduce your consumption and help to conserve the world's resources. This blog post gives three examples that Earthlore have utilized to prolong the life of items that may otherwise have gone to landfill.
The zipper on the above raincoat failed and as replacing zips is tricky, Janine replaced the zipper with Velcro. This has lengthened the lifespan of the jacket by a further 5 years to date and the coat will no doubt, survive a few more years yet.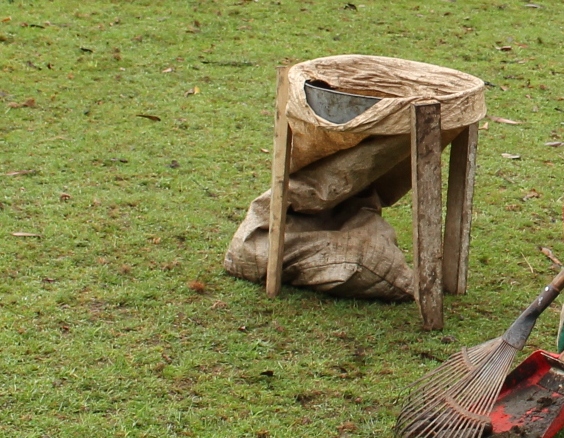 This empty feed sack has been repurposed so we can use it to collect manure from the donkey paddock. It is held open with the top cut from an old plastic drum and the legs are offcuts of wood used to build steps in the terraces. It is not pretty but it is functional.
When the hearth shovel broke, Gordon repaired it, strengthening the handle so it could be repurposed as the pooper-scooper. As plastic takes an age to breakdown, it should never be thrown away.
So, to recap: if you don't need it - don't buy it. If you can reuse it - please do so. If the item breaks - get creative and repair it. If it can't be fixed - if possible, give it another purpose. If all else fails - recycle it.
What our other guests had to say
Loads of fun, very informative and well laid out with something to keep all ages busy.
Margie Lee, Facebook
What a wonderful surprise! We took a wide range of ages of kids from 2 years old to 42 and all had a great time. An educational treasure hunt. I am going to suggest to our local primary school that we should visit as it would be brilliant as a school trip. Bugs, butterflies, spiders, birds,...
Olivia Gunn, Riverton
Awesome afternoon had by all ages at Earthlore. Fantastic chance for the kids to get up close and personal with some bugs. Loved the flea circus, donkeys, fruit forest and dress ups. Must do if you're near Owaka
John-Renee White, Riverton
Read More Reviews